Cantik jugak tarikh hari ni ye, walaupun tak secantik semalam (12.12.12). What makes it even MORE special is that it's my birthday! Yay! Happy birthday to me yang ke sweet 17 gitu. Eh. Hahahahahahahaa betul laaa ;-)
Anywayssss, you know what I like most about birthdays besides surprises, cakes, wishes and presents? FREEBIES/BIRTHDAY PRIVILEGES!! Bukan la nak jadi cheapskate ke ape, tapi sapa tak suka benda free kan? Lagipun setahun sekali je nak dapat all these privileges! :-)
1. GSC Movie ticket on your birthday month (for GSC website members)
print out the Birthday Coupon Treat from GSC site, fill up the details and redeem! (just tunjuk IC untuk verify)
valid on any day on your birthday month! (takde la rushing nak tengok on your bday itself)
yang tak syoknya valid for movie marked asterisk only
2. Starbucks Free Slice of Cake (for Starbucks Card members)
1 complimentary slice of cake with a purchase of any handcrafted beverage during your birthday month
3. Sing for Free at Red Box (for Red Box card members)
Present your IC & member card. Any K session; Min. 1 head charge applies; limited 1 free pax per room per visit; unlimited visit!

Valid 3 days before & after your birthday actual day (unlimited visits are allowed)

Valid at any Red Box, Green Box, Red Box Ria & Red Box Plus Outlets
4. Tutti Frutti birthday promotion
Enjoy your birthday special on your birthday at 20% discount for one cup/person in a single receipt for the birthday boy or birthday girl! Show your IC / Passport to verify your birth date.

Valid on your birthday only.
5. Birthday discount at The Body Shop (The Body Shop card members)
Enjoy 25% off discount for your birthday at The Body Shop.

Valid upon flashing SMS and good for one-time use only during your birthday month.

Valid at any The Body Shop® store in West Malaysia only.
6. Parkson Discount Voucher (for Bonuslink Card members)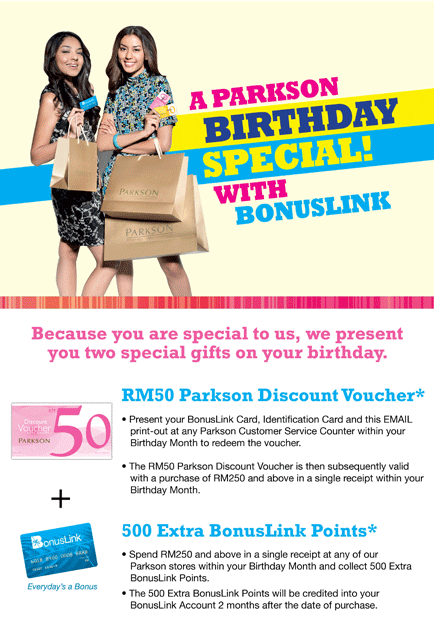 Voucher ni okay tapi banyak T&C huhuhu
Present your BonusLink card, IC and the email print-out at any parkson Customer Service Counter within your birthday month to redeem the voucher.
Valid with a purchase of RM250 and above in a single receipt within your birthday month.
(Source:
ILoveFreebies
,
Starbucks
and
BonusLink
)
Ini yang biasa aku look forward to during my birthday month lah.. ada apa-apa yang aku tak tau/miss out ke? Lemme know ye hehehe
Ok, nak pi makan kek sat. Babai! ;-)